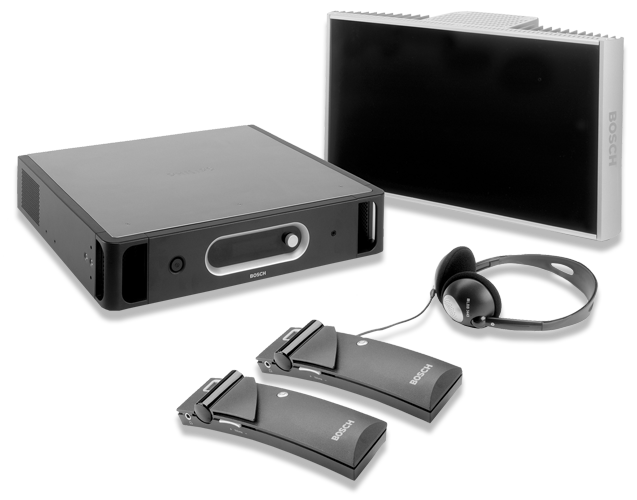 Interpreters' booths will be installed in a suitable position to enable the viewing of the head table and lectern location. The booth also comes complete with all electronics and lights to facilitate your required languages.
The interpreter booths are soundproof and comply with the ISO standard 4043 'Mobile booths for Simultaneous Interpretation' (the only ones compliant in CYPRUS)
Inside each booth we provide an interpreter desk for each of the interpreters. We preset the output channels and the Interpreters output is then Channelized to specific channels, for example:
Channel 0 – Floor
Channel 1 – English
Channel 2 – French
Channel 3 – Spanish
Delegates' Infrared multi-channel receivers, complete with headphones are tunable to any of the conference languages. These are collected at the end of each day for charging overnight ready for distribution the following day. Our receivers are capable of 16 channels.
New Digital Infra-red Receivers offer CD Quality Audio for Delegates.
Contact us for more information and pricing.
Checklist for Hiring Simultaneous Interpretation Equipment
A multilingual conference requires professional conference interpreters and reliable equipment with competent technicians. The simultaneous interpretation equipment is usually hired separately from the interpretation service. Here are some points to help you ensure that the equipment you hire is adequate.
As a rule, your equipment supplier should provide the whole system, including microphones, amplifiers and headsets, in order to avoid technical hitches. The hotel microphone and amplifier system (PA system) is frequently incompatible with the simultaneous equipment.
The equipment supplier's technician should operate the system throughout the conference rather than leave it in the hands of untrained operators. The equipment supplier should provide experienced technicians for the duration of the conference.
Ensure the equipment supplier includes sufficient microphones and receivers for all speakers and delegates. All microphones should be monitored from the central console operated by the technicians.
Make sure you have the right number of booths. As a general rule you will need one booth per language.
To enable speakers to move away from the rostrum, a roving lapel or neck microphone should be provided.
Please ensure that the booths meet ISO standards as regards ventilation and lighting and are positioned in such a way that interpreters can see the rostrum and the screen used during the meeting. Each booth must have a console, individual controls with a microphone, a headset and a small reading lamp for each interpreter.