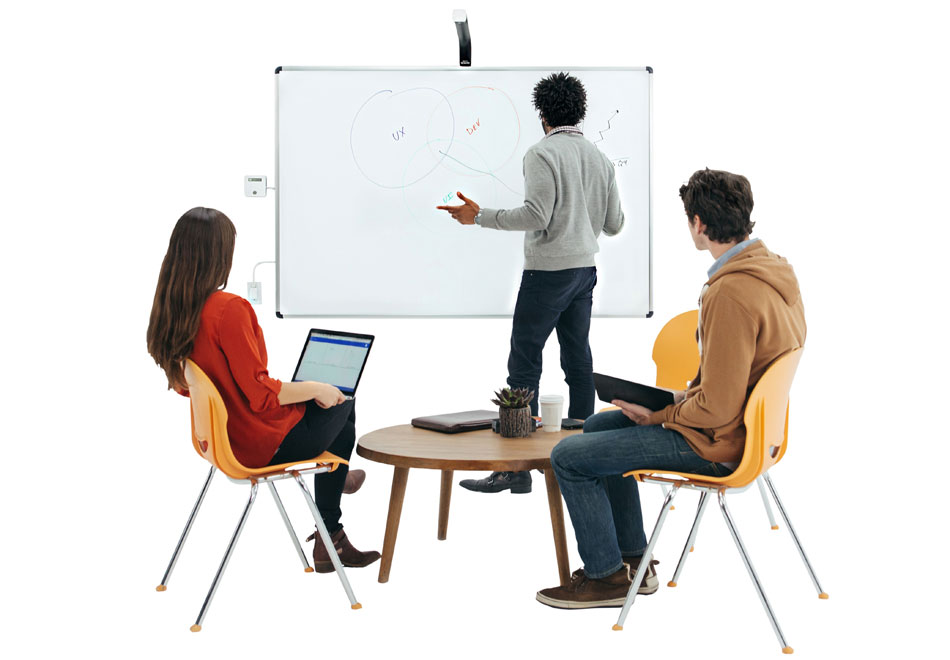 Turbocharge your whiteboard
Kaptivo is a whiteboard camera system that turns any regular whiteboard into a smart, digital collaboration tool.
Share live via your web browser, or with Zoom, Cisco and more. Save and secure your content.
The Kaptivo integration for Lifesize Share is designed to bring the creativity and flexibility of whiteboarding to your video conferencing experience.
Attaching to any standard whiteboard or glass board, the camera system allows you to capture content in real time with exceptional quality to share during a call – or simply to provide a better view to people in the room.
Whiteboard content is captured digitally and automatically—and updated in real time
Attaches to any standard whiteboard or glass board, and supports writing of any color
Advanced, integrated optics and embedded image processor automatically enhances whiteboard images while removing glare, shadows, and physical obstructions
A timeline slide deck, showing the progression of content added or erased, is produced during each session for you to publish and share
Share with anyone, anywhere, on any device.
Compatible also with ZOOM, TEAMS, BLUEJEANS and many more.
No additional apps, downloads, plugins, or complicated logins required
No training needed
No change to the way you work
1000-0000-0937
Lifesize Kaptivo Camera – Whiteboard Sharing
Lifesize Kaptivo including two years of Device Software Subscription
€895
VAT not Included